On 16 August 2018, DPI held a Country Assessment Meeting with Turkey-based advisors, international members of our board and Council of Experts as well as EU representatives in Brussels, to evaluate the situation in the country, particularly regarding democratisation and resolution processes. The meeting was moderated by Kerim Yildiz, DPI CEO and Andy Carl, international conflict resolution expert and member of DPI's Council of Experts.
Assessments by each participant focused on the post-election political landscape, particularly the transition from a parliamentary to a presidential system, current economic policy and trends, and developments in foreign policy. This meeting proved to be constructive with participants exchanging experiences, insight and opinions from a broad range of diverse perspectives in an open and frank discussion whilst gathering initiatives for future activities of DPI.
This Assessment Meeting was part of the project 'Supporting inclusive dialogue at a challenging time in Turkey' supported by the EU and the Irish, Dutch and Norwegian governments.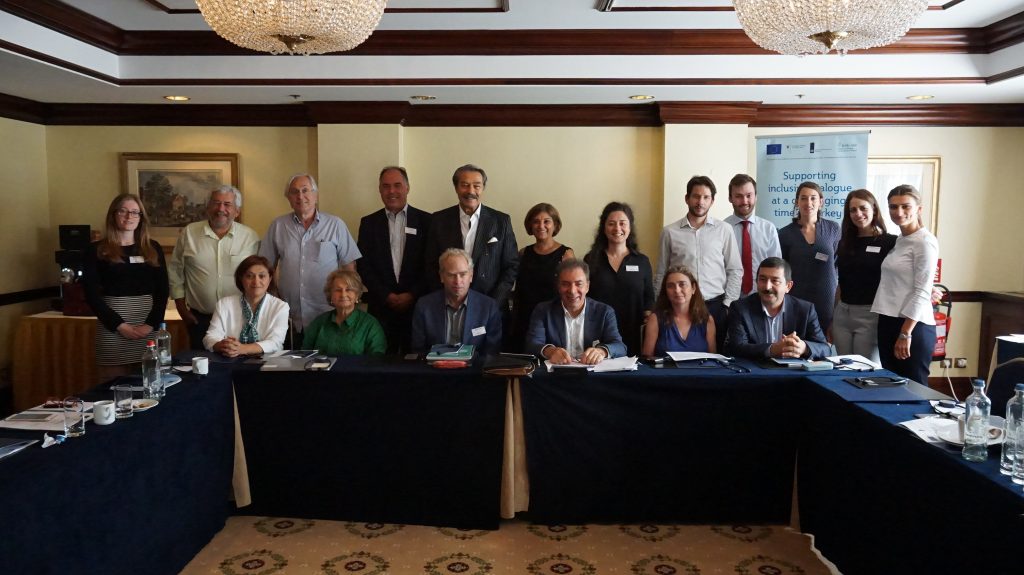 Back row: Claire Booth (DPI Development and Grants Officer), Mehmet Ufuk Uras (DPI Council of Experts), Ali Bayramoğlu (DPI Council of Experts), Prof. Fuat Keyman (DPI Council of Experts), Kadir İnanır (DPI Council of Experts), Prof Dr. Sevtap Yokuş (DPI Council of Experts), Esra Elmas (DPI Head of Turkey Programme), Hubert Duhot (European Commision International Relations Officer), David Murphy (DPI Project Officer), Natalie Taylor (DPI Intern), Sophie Verbis (DPI Senior Programmes Officer), Ulpjana Ruka (DPI Programme Assistant)
Front row sitting: Prof Dr. Aşkın Asan (DPI Council of Experts), Kezban Hatemi (DPI Council of Experts), Andy Carl (DPI Council of Experts), Kerim Yildiz (DPI CEO), Sally Holt (DPI Deputy Director), Prof. Fazıl Hüsnü Erdem (DPI Council of Experts)