The Democratic Progress Institute (DPI) is an independent non-governmental organisation established in consultation with international experts in conflict resolution and democratic advancement. DPI seeks to promote peace and democracy building through strengthened public dialogue and engagement. We provide a unique programme model which combines theoretical foundations and expertise-sharing with practical approaches such as conferences and other platforms for exchange. Our work is supported by a Council of Experts composed of preeminent international specialists spanning from policy experts to academics and human rights practitioners.
We aim to broaden bases for public involvement in promoting peace and democracy. Our unique model combines expertise and research with practical inclusive platforms for dialogue.
Our work is divided into five focus areas of activity. We aim to: Provide inclusive platforms for dialogue through roundtable meetings, with the aim of broadening the bases of support for a peaceful solution process and democratic advancement across all sectors of society. Facilitate collaborative expertise sharing by encouraging participants to focus their attention on commonalities with other conflicts, rather than their own differences. This unique model helps establish an environment in which potential solutions can be explored with conflict transformation experts who have practical experience of relevant subjects, and in which bridges are built between different sides of a conflict. Build capacity through mentoring, by carrying out private diplomacy activities, providing targeted advice and by creating safe spaces for key actors and institutions to engage in learning opportunities relating to conflict transformation, including governance issues and human rights. Strengthen knowledge through assessment and analysis of the complex dynamics at work in the conflict and share potential solutions with stakeholders and the broader public with the aim that it will contribute to a long-lasting political resolution to conflict. Promote the indivisibility of human rights, advance the rule of law and defend the rights of some of society's most vulnerable individuals, groups and minorities, thereby safeguarding future generations from further human rights abuses.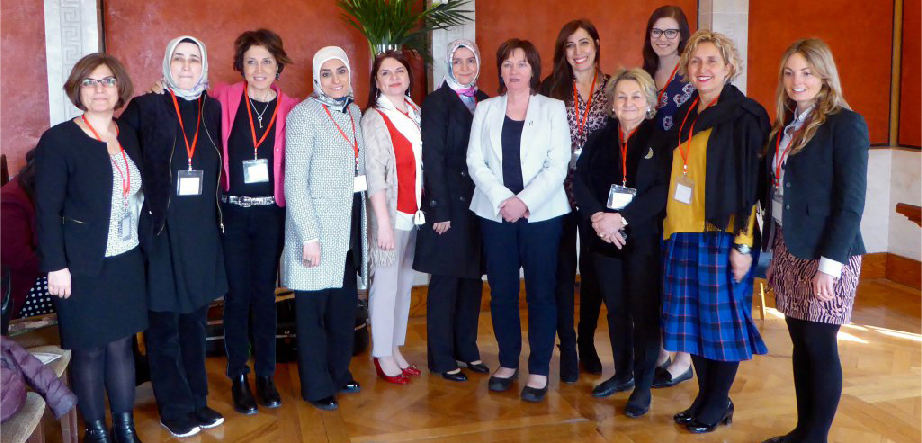 The Democratic Progress Institute was founded on the principles of inclusive dialogue and open exchange of knowledge to promote peace, democracy and human rights. Our work is rooted in our deeply held values of respect and equality, through which we seek to foster strong relationships and an environment in which new ideas and established expertise can together progress democracy. At every level of our work and organisation, we are committed to professionalism, integrity and impartiality.
Covid 19 Update
2nd April 2020
As DPI, we would like to provide you with an update on the effect that Covid 19 outbreak is having on our work, and the necessary steps that we are taking in order to protect our staff and participants. At the advice of the Government and health authorities, DPI has suspended all work-related travel to, from and within Turkey and Europe. We are monitoring the impact of this crisis daily. All our planned face-to-face activities have been postponed until further notice, and instead, replaced with online meetings. As per the UK Government's advice, we have mandated all staff members to work from home until further notice.
Yeshim Harris
Chief Operating Officer
Democratic Progress Institute.
PRESS RELEASE – Tirana Earthquake and the DPI Roundtable Meeting
Albania 25th -28th of November 2019
The Democratic Progress Institute (DPI), organised a roundtable discussion in Tirana, Albania, with our advisers and experts, to examine and assess the current political situation in Turkey and the region. Regrettably, in the early hours of 26th November, the biggest earthquake in the region for 40 years happened. Although sadly there were deaths and injuries in Albania from what was a strong Richter 6.4 earthquake, we are pleased that all our guests and members of staff were spared any physical injuries.
It was decided that the programme was cut short to ensure the safety of the participants and the staff. There has been a quite short session that day. The planned overall discussion which is a part of a larger series of activities in the context of the project: "Supporting inclusive dialogue at a challenging time in Turkey" will continue in the New Year.
In the meantime, all our thoughts are with the families of all those who lost their lives and others who have been affected by the earthquake.
Yeshim Harris
Chief Operating Officer
Democratic Progress Institute
PRESS RELEASE – COMPARATIVE STUDY VISIT: Bringing a process back on track: Lessons Learnt from the South Africa experience
Pretoria and Cape Town, 9-16 June 2019
The Democratic Progress Institute (DPI) will, as planned, carry out a second Comparative Study Visit (CSV) in South Africa over the next 8 days that brings together a diverse group of participants from across Turkey's many constituencies.
11 Guilford Street London WC1N 1DH
info@democraticprogress.org
Tel: +44 0207 405 3835
Nearest tube: Russell Square (Picadilly line),
Chancery Lane (Central line)